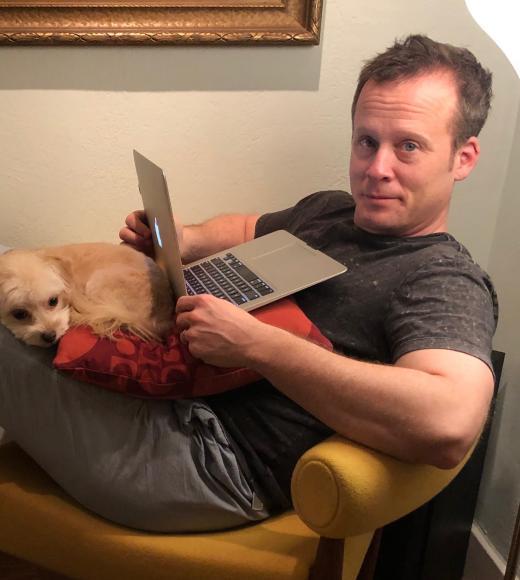 Position Title

Professor of French and Comparative Literature
Office Hours
S23: Tuesday 12:30-1:30 PM, Thursday 3:15-4:15 PM in person
Bio
Noah Guynn is a specialist in medieval and early modern literature, theater, and culture.  His first book, Allegory and Sexual Ethics in the High Middle Ages, was published in The New Middle Ages Series at Palgrave Macmillan in 2007.  His second book, Pure Filth: Ethics, Politics, and Religion in Early French Farce, has just appeared in The Middle Ages Series at the University of Pennsylvania Press. Guynn is also coeditor, with Marilynn Desmond (Binghamton University), of a special issue of Romanic Review entitled Category Crossings: Bruno Latour and the Middle Ages, and with Zrinka Stahuljak (UCLA), of an edited volume entitled Violence and the Writing of History in the Medieval Francophone World.
Teaching Experience:
Course Description for FRE 128:  This course will examine gender history as it might be told from the margins. Our focus will be on real people and fictional characters who deviated from social expectations in the shapes and features of their bodies, the ways they dressed, the ways they performed their gender identity, and/or the ways they expressed their sexual desires. The first part of the course will focus on works of medieval and early modern literature and theater that exhibit tremendous flexibility in their conception of gender roles. Among other things, we will deal with transgender knights, female monks, boy actresses, same-sex marriages, and masculine pregnancies. In the second part of the course, we will turn our attention to the nineteenth, twentieth, and twenty-first centuries, looking at the ways in which modern, binary notions of sexual difference have been imagined and enforced but also at the ways in which individuals have claimed alternative identities by refusing gender dimorphism. We will read a famous short story by Balzac about a castrato, a male singer who was castrated in childhood so he would retain a soprano voice in adulthood; and the memoirs of Herculine Barbin, a nineteenth-century "hermaphrodite" whose birthday is now observed as Intersex Solidarity Day. Finally, we will end the quarter with a discussion of two contemporary films, Ma vie en rose (1997) and Tomboy (2011), both of which tell the stories of prepubescent children whose culturally assigned gender differs from their self-identified gender. Throughout the quarter, and especially with these two films, we will consider how families, communities, and societies can work to humanize and/or dehumanize individuals who fail or refuse to conform to prevailing norms.
Course Description for FRE 214:  Since 1975, when Natalie Zemon Davis published her landmark essay "Women on Top," feminists have focused a great deal of attention on the many abrasive, defiant, self-assertive female characters to be found in outwardly sexist forms of literary, theatrical, visual, and ritual culture. There has been good reason for them to do so, as these Women on Top offer a privileged vantage point from which we may observe the contested, dynamic nature of patriarchy.  While aesthetic depictions of shrews, scolds, gossips, and fishwives were clearly used to legitimize the subjection of real women, they also alert us to the fact that patriarchy is not an absolute, inflexible, or unchanging system of hegemonic control but is instead a moving equilibrium structured around a variety of negotiated, oppositional relations. Unfortunately, in our rush to revalue these Women on Top and bring to light the cultural and political tensions surrounding them, we have tended to neglect their more obedient but equally provocative sisters: Bossy Bottoms who manage to unsettle patriarchal ideologies by deliberately and ostentatiously choosing to subordinate themselves to a masculinist agenda. This seminar will focus on both of these character types, perceiving them as manifestations of the transactional and unstable nature of medieval and early modern marriage.
Education and Degree(s)
Ph.D., M.Phil., M.A., Yale University
B.A., Haverford College
Honors and Awards
American Council of Learned Societies Fellowship, 2012–13
Phi Beta Kappa Excellence in Teaching Award, 2009
Martin Stevens Award for the Best New Article in Early Drama Studies, Medieval and Renaissance Drama Society, 2007
Courses
FRE 128: Gender in Historical Perspective: Medieval to Modern
FRE 214: Women on Top and Bossy Bottoms
Research Interests & Expertise
Medieval and Early Modern Literature and Drama
Critical, Feminist, and Queer Theories
Performance Studies and Theater History
Publications
"Binocular Vision: Enchantment and Disenchantment, Metaphysics and Phenomenology on the Late Medieval Stage," in Category Crossings: Bruno Latour and the Middle Ages. Special issue of Romanic Review, forthcoming.
"We Have Always Been Medieval: Bruno Latour and Double Click, Metaphysics and Modernity," in Category Crossings: Bruno Latour and the Middle Ages. Special issue of Romanic Review, forthcoming. Coauthored with Marilynn Desmond (Binghamton University).
"Translating Catharsis: Aristotle and Averroës, the Scholastics and the Basochiens," in Rethinking Medieval Translation: Ethics, Politics, Theory, ed. Emma Campbell and Robert Mills. Woodbridge, UK: Boydell & Brewer, 2012.
"Hybridity, Gender, and Ethics in Two Old French Werewolf Tales," in Stones, Worms, and Skin: Gender and Embodiment in Medieval Europe, ed. E. Jane Burns and Peggy McCracken. South Bend: Notre Dame University Press, 2012.
"Rhetoric and Historiography in Villehardouin's Conquest of Constantinople," in The Cambridge History of French Literature, ed. William Burgwinkle, Nick Hammond, and Emma Wilson. Cambridge, UK: Cambridge University Press, 2011.
Membership and Service
Forum Executive Committee, Medieval French, MLA
Editorial Board, Romanic Review
TOME Open Access Monograph Fund Advisory Group
Center for Educational Effectiveness Advisory Committee