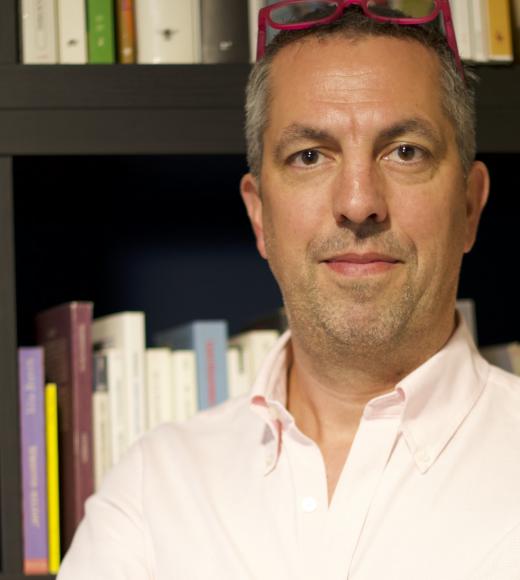 Position Title

Professor of French

Affiliated Faculty of Linguistics

Affiliated Faculty of the DE in Gender, Sexualities & Women's Studies
Office Hours
Tuesday & Wednesday, 1-2pm or via appointment (via Zoom: please see syllabus or email for link)
Bio
Education and Degree(s):
PhD, University of Texas, Austin
Research Interest(s):
Linguistic analysis of discourse practices
Language, hegemonies, masculinities and sexualities
Gender in/and/through language
Taboo language (insults, offenses, censorship)
Course(s) Taught:
FRE 109 - Phonetics & Phonology
FRE 161 - Form, Meaning & Structure
HUM 15 - Bad Language and Social Identity
FRE 201 - A Critical History of French
Profile:
Life is mediated by bodies, the vessels of our experience, and by languages, the shared systems through which we understand these experiences: we are simultaneously embodied and enlanguaged.
My research asks how the languages we use concurrently shape and are shaped by lived experiences, and how this dynamic contributes to the ways we understand ourselves and others. Consider example like "I like coffee." In English, my relationship to coffee is mediated by the psychological verb to like: I am a sensor and coffee is a phenomenal object. Sounds simple… but is it really? In Italian, to convey the same experience, I would say mi piace il caffè – literally, "coffee pleases me." Here, I am an object being affected by the psychological agent caffè. Could it be that two people – one an Anglophone and another an Italophone – do not experience the enjoyment of coffee in exactly the same manner? What about the differences between the English "He made a mistake" and the French "il s'est trompé" (lit. "he misled himself") or between "She feels cold" and the Flemish "'t doet ze koud" (lit. "it does/makes her cold")? Are Francophones or Dutch speakers truly experiencing the same state of affairs as English speakers, let alone of Russian, Mandarin, Berber… and so forth? And just how do these differences – words, structures, functional patterns, and more – shape the truths and worlds of different speakers and speech communities?
My research steps into the messiness of language and unravels discursive worlds from within. I address questions that are immensely important in our lives today, exploring topics such as homophobia, misogyny, sexuality, and gender. I also critically examine the ways that power, authority, and ideology play out in and through language, tackling cultural-linguistic actors who live out in the shadows, often hiding behind a veneer of civility and inclusion. My 2019 book The Discursive Ecology of Homophobia proposes an ecological model and applies this to populist forces in Belgian Flanders (Filip Dewinter), France (les Hommen), and Italy (le Sentinelle in Piedi). My second book, Alpha Masculinity (2021) explores neopositive masculinity manifest through pop-psychology, gay erotica, and an online social group. I have published chapters in edited volumes and journal articles on related topics, such as indices to sexuality in French and Italian, the fetishization of English by French Ironman athletes, the corruptive discursive of Trumpist politicians during the Covid pandemic, and the interplay of sexual modernity and Islamophobia in Flanders.
I am currently pursuing several exciting projects. One is an edited volume, in collaboration with Kris Knisely (U. Arizona), that brings together research addressing non-binarity in languages with so-called grammatical gender (e.g. French, Italian, and German). We show how contemporary speakers are charting new courses and challenging normativities at the intersection of language form and sexual and gender identity. Another monograph project reconsiders offensive and taboo language from a critical cultural lens, exposing the ideological and power dynamics underlying "shock humor" or "political correctness" (among much else). Finally, I am continuing a third book project that explores how historical transgressive masculinities in the Italian mezzogiorno – e.g. femminielli in Naples and arrusi in Catania – are "de-queered" in contemporary LGBTQ+ discourse. This investigates multiple layers of queering and normativization, asking what it means to de-inscribe and re-inscribe identities and experiences through linguistic/cultural praxes.
I'm always happy to connect with students at any level who are interested in delving into the connections between language and culture, and questions emerging from language in society. I regularly work with students who wish to present their work at the UCD Undergraduate Research Conference, and mentor graduate students in languages, linguistics and related programs of study. Feel free to contact me with questions, ideas, or if I can be of assistance.
Committees and Service:
External Grant Reviewer: National Science Foundation,

Agence Nationale de la Recherche & Deutsche Forschungsgemeinschaft, Leverhulm Trust

COCI/General Education Committee
Humanities Program Committee
"Aggie Success" Program for incoming students
Selected Publications:
2021. Alpha masculinity - Hegemony in language and discourse.  Palgrave Macmillan.
in press. Hate in Language, Hate and Language. In. K. Hall & R. Barett, Oxford Handbook of Language & Sexuality.
in press. Romance-lexifier creoles. In R. Gess, T. Meisenburg (eds.) Handbook of Romance Phonology. With Mirna Reyna.
2020. "Dans la langue, il n'y a que des différences": New communications, new enquiries... New linguistics? Journal of Language & Sexuality 9.1: 93-95.
2019. The Discursive Ecology of Homophobia: Unraveling anti-LGBTQ language on the European Far Right. Bristol: Multilingual Matters.
2019. 'Les Hommen': The language of reactionary masculinity. Gender and Language 13.1: 94-121.
2017. Style shifting and the phonetic performance of gay vs. straight: A case study from French. Journal of Language and Sexuality, 6.1:134-182.
2015. Sounding Gay and Sounding Straight: the performance of male sexual identity in Italian. Journal of Language and Sexuality 4.1:30-76.
2015. Competences in Contact: Lexifier targeted change and the grammar. Journal of Pidgin and Creole Languages 30.1: 116-141.
2012.  Show Devant! Language fetishization and the micro-ecology of Ironman France. Journal of French Language Studies 22.3:447-466.
Teaching & Courses:
Description for HUM 15
This course asks students to explore language – particularly, the sorts of language that are often deemed inappropriate, offensive, or otherwise taboo – and how the ways we 'do this sort of language' construct our and others' social identities. We will peel back the layers of language practices, from the words we use for body parts, to the jokes that might offend, to the ways we insult, asking what we can learn about our society, the identities that are part of it, and issues such as power, privilege, and discrimination.
In this class, students will be exposed to a number of approaches to the question of how language shapes our lives and how we shape language, drawing broadly from across the humanities and humanistic disciplines (discourse analysis, philosophy, cultural studies, sociolinguistics, etc.).
Among many of the questions we will explore are the following:
How and why do we assign value to language forms? Why is f**k or a** judged to be a swear word, but not fudge or butt, darn or heiny?
How do words like illegals or terrorists reflect our society's construction of power, inclusion, and privilege? And why is it so difficult to come up with an offensive word referring solely to those who identify as white/Caucasian?
How do words like f**kboy and pu**y reflect our expectations of masculinity? What do taboo words like c**t or b**ch tell us about our expectations of women?
What sort of language knowledge allows us to understand dialogues like the famous Donald Trump-Billy Bush tape as anti-female? And why do so many people – including many liberals – see this as an example of "locker room talk," rather than something more systemic?
Description for FRE 201
This seminar is intended to frame two scholarly moments: one, an exploration of the social history of the French language, especially focusing on the emergence and cohesion of this as an anthropological and epistemological ideation; and two, an unraveling of the socio-cultural forces that served to construct this episteme and to promote this cohesion, frequently at the expense of other language communities and their cultures/practices. We will interrogate how French emerged and came to take its cultural, political, and linguistic form, and how this trajectory can help us understand contemporary issues surrounding language in society, more broadly.
Rather than only concentrate on dates and events in the history of French (we will also do this, if only as a type of baseline), we will interrogate historical pathways and outcomes as intrinsically bound up in extra-linguistic power structures and cultural institutions. The readings of this class reflect our dual objectives: Lodge will serve as a reference and jumping off point for the discussion of historical moments, allowing us to describe language within and across historical moments with appropriate terminology and concepts; Heller & McElhinney will frame our examination and re-examination of how such moments and the forces contributing to them can be critically interrogated and the power structures contributing to them made clearer.
A tertiary, but equally important objective is the development of disciplinary writing practices. All students will be expected to contribute a term paper in which they delimit a question of sociolinguistic historic significance: this requires them to present basic diachronic facts, articulate a critical argument within the scope of the seminar and readings, frame a cogent argument pertaining to the political and social significance of the moment/moments in question, as well as relevant actors and forces, and engage with this in a way that reflects appropriate disciplinary postures. This is intended to give students practical experience with the type of scholarship undertaken in the course, while also providing a chance to hone writing skills and develop solid scholarly habits.