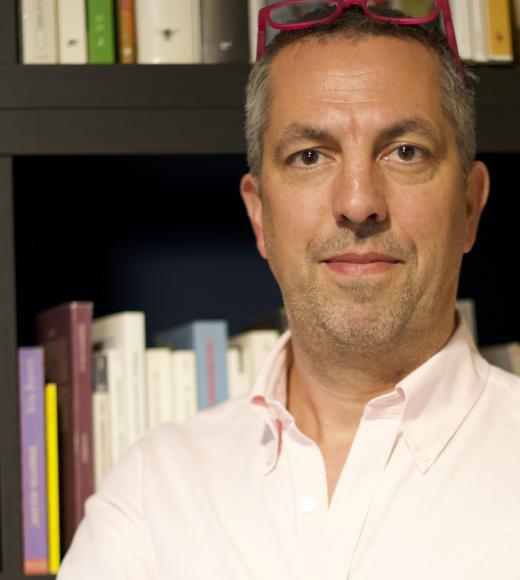 Position Title

Professor of French & Italian

Affiliated Faculty of Linguistics

Affiliated Faculty of the DE in Gender, Sexualities & Women's Studies

Undergrad Faculty Advisor and Contact for Italian
Bio
My research begins with the apparently odd assertion that "language doesn't exist." By this, I understand language to be a fundamentally verbal - rather than nominal - phenomenon: it is something that is done by individuals in community and by communities of individuals. Remove humans from the equation and language ceases to exist - even that which might be considered "linguistic," such as ink on a page, etchings in stone or recordings on a hard disc, would not be language absent humans to apprehend and process them. [Of course, this ignore questions of animal or artificial language... fascinating topics for other scholars!]. I am interested in how the ways we language reflect our worlds and lived experiences, and how this dynamic contributes to the ways we understand ourselves and others. Proceeding emically from lingua cultural contexts in which I participate and with which I have lived experience, I focus on questions of gender and sexuality, power and privilege and much more among communities of francophones, italofoni, nederlandstaligers, and more. 
I also take part in a local master's swim team, enjoy photography, and just about anything involving informed travel, cooking and wine. Feel free to come by and chat about language, culture, where to swim or just about anything else!
Forthcoming & In Progress
Coming late 2023: Transgressive Languaging, Transgressive Languagers. (In contract, Routledge: book monograph)
Coming late 2023, co-written with Chloe Brotherton: "Abjection and Subjection: The banality of sexual hegemony." Chapter in Critical Sexualities Studies (M. Marzullo & W. Leap, eds.). 
In progress: Biolinguistics: Languaging and enlanguaging the sexual and gender human
In progress: Enlanguaging Elitism: A critical examination of language in academia
Selected Publications
In press. Redoing Linguistic Worlds: Unmaking gender binarities, remaking gender pluralities, ed. with Kris Knisely. Multilingual Matters
2023. Linguistic Engagement as Public Health: Anti-genderism and critical language scholarship for the 21st century. Gender & Language, special issue (D. Baran & R. Borba, eds.)
2022. Hailing All Neoliberals: Corruption and the Trumpist Response to COVID-19. In Corruption and Illiberal Politics in the Trump Era, D. Goldstein & K. Drybread (eds.). Routledge. 
2021. Alpha masculinity - Hegemony in language and discourse.  Palgrave Macmillan.
2020. Hate in Language, Hate and Language. In. K. Hall & R. Barett, Oxford Handbook of Language & Sexuality.
2020. "Dans la langue, il n'y a que des différences": New communications, new enquiries... New linguistics? Journal of Language & Sexuality 9.1: 93-95.
2019. The Discursive Ecology of Homophobia: Unraveling anti-LGBTQ language on the European Far Right. Bristol: Multilingual Matters.
2019. 'Les Hommen': The language of reactionary masculinity. Gender & Language 13.1: 94-121.
2017. Style shifting and the phonetic performance of gay vs. straight: A case study from French. Journal of Language and Sexuality, 6.1:134-182.
2015. Sounding Gay and Sounding Straight: the performance of male sexual identity in Italian. Journal of Language and Sexuality 4.1:30-76.
Courses on the Horizon
HUM 15, Language and Identity (aka "f*ck this sh*t"): In this class, students explore transgressive and taboo languaging and languagers. They gain critical analytical skills and practice looking at linguistic life from the perspective of an engaged, humanist-linguist. 
FRE 109, Phonetics and Phonology: In this class, students explore the ways that French is lived out in the articulatory world. They come to understand the differences between French and other languages, how French varies in different contexts, and what contributes to different accents.
ITA 128, Queer Italia: In this class, students explore the past and present of gender and sexual citizens in Italophone linguacultures. They investigate readings, film and social media pertinent to questions such as binarity/non-binarity in language, transgressive masculinity, and sexual hegemony. 
ITA 198/118, Dialects in Italy: In this class, students adopt their own dialect or regional language, exploring the ways this differs from standard Italian. In so doing, they obtain a solid foundation in the linguistic description of languagers and linguacultures.
FRE 201, Critical History of French: In this class, graduate students re-examine the historical emergence of French-as-Ideology, particularly the ways that this is demonstrative of power structures and hegemonic dynamics. They re-read the sociolinguistic history of the language through the lens of critical theorists, including Gramsci, Bourdieu and Foucault.
Education and Degree(s)
PhD, University of Texas, Austin
Courses
FRE 109 - Phonetics & Phonology
FRE 161 - Form, Meaning & Structure
FRE 201 - A Critical History of French
HUM 15 - Bad Language and Social Identity
ITA 128 - Topics in Italian Culture
Research Interests & Expertise
Linguistic analysis of discourse practices
Language, hegemonies, masculinities and sexualities
Gender in/and/through language
Taboo language (insults, offenses, censorship)
Membership and Service
External Grant Reviewer: National Science Foundation, Agence Nationale de la Recherche & Deutsche Forschungsgemeinschaft, Leverhulm Trust
COCI/General Education Committee
Humanities Program Committee
"Aggie Success" Program for incoming students