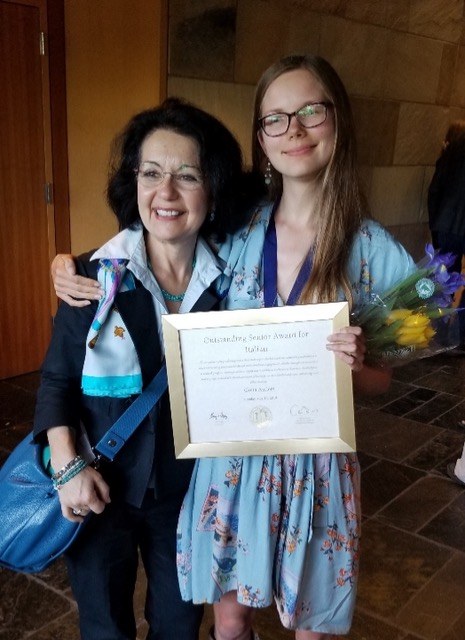 Greta Anders, who graduated in June with a triple major in Italian, Anthropology, and Linguistics and received the Outstanding Senior Award in Italian and the Italian Departmental Citation, won the 2019 American Association of Teachers of Italian College Essay Prize. This is an extremely competitive award that attracts submissions from all major North American universities.
From Greta: I am honored to have received the 2019 AATI Essay Contest prize for my work, "La dissociazione con il paese d'origine a costo dell'identità e dell'umanità" [Disassociation with the Country of Origin at the Cost of Identity and Humanity], which examines the ways in which three contemporary Afroitalian authors represent and critique the sense of alienation and dehumanization that so many African migrants experience during and after their arrival in Italy. Alongside the literary analysis are frequent parallels to the words and experiences of psychologist and activist Frantz Fanon, which eerily signal how in many ways Europe's response to African immigration has not changed for the better despite the passing of more than half a century. I thank the hard work of myself and Professor Margherita Heyer-Cáput in achieving this accomplishment and hope to continue honing my analysis and writing!
Congratulations, Greta!